August 28, 2010
Frontier Festa 2010
We played in a festival of the food called "Frontier Festa 2010" held in Wattsu, Kitahiroshima.

A stage is a specially-installed outdoors stage using a carrier of 2t truck.
It's so wild.
Frontier spirits is overflowing.

It was fine from the morning on this day, and we thought as the ideal festival weather, but it was mistake.
This day was intense heat.
What a terrible heat !
There was no cool place.
It was a tanning salon on the stage exposed to the direct sunlight.
nu-Funk members were already dying before live started.

Well, putting that aside, female vocalist, Yun-chan from "Misora" had come again !
During busy days, thank you very much !
She appeared with singing jazz standard number, "Fly Me To The Moon".
And she showed powerful and sexy expressions when singing 2 nu-Funk's original funky tunes.
Great !
Were you enjoyed ?

And this day, three female vocalists unit called "Bang Tones" which thought we'd like to be costarred for a long time, had come.
It's a wonderful chorus group that has dynamic rhythm based on Soul and R&B music, and marvelous harmony in tune with each other.
A performance dignified in spite of heat.
Great !
We had fun time.
Thanks a lot !

One more topic, we played background music in "Flower Performance" which performed by flower writer, Mrs. Naoko Mori.
The honor is more than we deserve !
She was absorbed in arranging flower with our new song, "Voyage".
A wonderful work was completed in a moment.
In the second half, we played awkwardly because development wasn't understood, but we had a great time !
Mrs. Mori, thank you very much !

Finally, we are deeply grateful to many guests who came this event on this day, EDELWEISS FARM of the sponsorship, all of each stores opend on this day, Flower Network which cooperated, Studio 43 which carried equipments, all of each band costarred on this day, Misora's Yun-chan, members of Bang Tones, and Mrs. Naoko Mori.
Thank you so much !
See you again !
Peace !
Set List
1.Pow
2.Between The Sheets
3.Fly Me To The Moon (feat. Yun-chan)
4.Fly (Vocal Mix) (feat. Yun-chan)
5.Happy Time (Vocal Mix) (feat. Yun-chan)

"Flower Performance"
1.Funky Magic
2.Voyage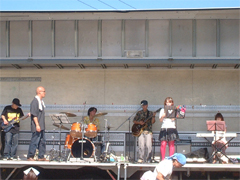 nu-Funk feat. Yun-chan (Misora) 's live.
She showed wonderful singing this time.
More information of Yun-chan is here.
P.S. February 11, 2011

While it was regretted, Yun-chan's band "Misora" was dissolved.
But now, she is singing in her new band.
We correct it, and want to send encouragement to their future work on this occasion.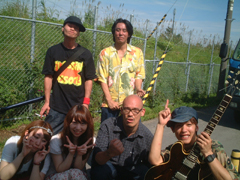 Photo before live.
We were completely exhausted because it was too hot.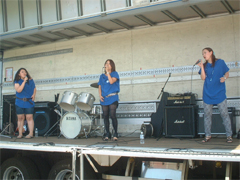 Live performance of three female vocalists group, "Bang Tones".
A harmony of power is recommended.
More information of Bang Tones is here.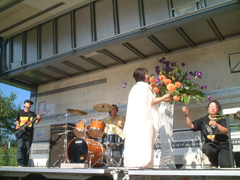 Flower writer, Mrs. Naoko Mori's flower performance.
Background music was played by nu-Funk.
The work completed innocently seemed to feel the universe.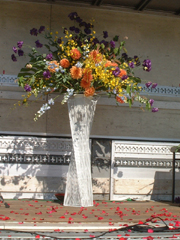 The work completed.
Quite vivid !
It's a large-scale work !
Photo with Bang Tones after their live.
Central parson is Bamboo D of nu-Funk.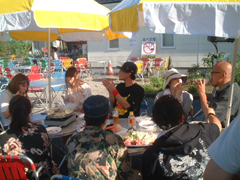 After our live, nu-Funk member and Yun-chan treated to Genghis Khan by the organizers' kindness.
Thank you so much !

* Genghis Khan is barbecue of Hokkaido style.